Oak Island Fishing Charters
Charter who the Locals Charter!
Offering 1/4,1/2,3/4, and full day, backwater, nearshore & offshore fishing trips. Troll for King/Spanish Mackerel, Dolphin, Wahoo and Sailfish. Bottom fish for Grouper, Snapper, Sea Bass, Cobia, and Amberjacks. Shark fishing trips and scenic cruises also available aboard our 33 SportFish. Mate provided.
Captain Captain Ryan Jordan
---
The boat is located at:
Blue Water Point Marina
57th place West Beach Rd
Oak Island, NC 28465

---
---
---
---
---
Big Surprise
10-27-2015 02:55 PM
Took off Sunday offshore to do some bottom bouncing with one of my regular groups. Day started off great at the first rock, big black bass, pinkies, b-liners, grunts, trigger, almaco jacks, banded rudder fish, you name it they were there. Jeremy, first time offshore, hooks into something big and throws his first grouper over the side. Gag 1 Drops down again and gets Gag 2 on the next drop. The bite slowed, so I moved to rock #2. Same as the first rock, fish are chewing and of course, Jeremy pulls up another grouper, Scamp 1, then 2 drops later pulls up scamp #2. Always the first timer who seems to get the grouper, he is ruined for life for sure now. Shannon pulled up the Strawberry grouper(Rock Hind) in the back corner and we had a grouper slam for the boat. After that a school of peanuts showed up to play for awhile, so we bailed a few of those for about 10-15 minutes until they shut down on us when one broke off. Moved to rock #3 to try and get Jeremy a few more grouper before the end of the day and try to fill out our b-liner limit, when the light line with a dead cigar minnow started to creep off, slowly at first, then it screamed off trying to dump my speedmaster as fast as possible. I yelled for everyone to get their bottom rigs up, turned the boat and started to chase whatever was dumping the line off the reel. As soon as I started to turn the boat, she jumps 5 ft in the air in front of the boat, SAILFISH ON!!!!! She ran fast and hard jumping about 5-8 more times before we got her to slow down. She was BIG, and proceeded to pull and fight Shannon for 1 hr 35min and drag us 1.8 miles offshore taking almost all the line about 7-8 times. Shannon did an incredible job on the rod considering it was 20 lb test with a 20" long wire king rig at the end. We had no leader to grab hold of and the 20 lb line was as tight as a guitar string, and this fish did not want to come to the surface. We finally got her to the side of the boat where my mate John reached out and got hold of her bill. We slid her over the side for a quick photo and measurement. Biggest sail I have seen around here, she was 71"LJFL and she was thick, 76.5 lbs. We put her back in the water and started to revive her, but unfortunately this was her last fight, she fought her heart out. Replica will be made and the smoker will be full this week. October fishing at its best!!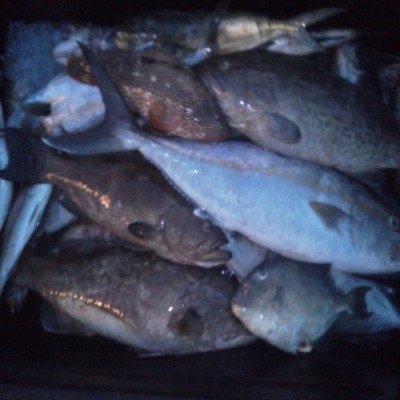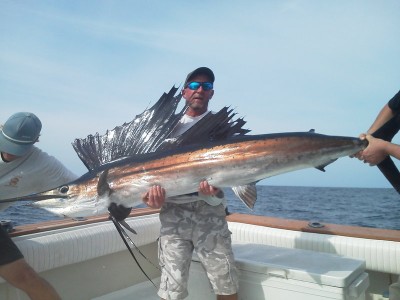 ---
Wahoo 11/8/09
11-11-2009 01:45 AM
Click to Read More
---
Capt Greg MicKey
11-05-2009 01:09 AM
Click to Read More
---
Jig Molds
04-15-2009 08:02 AM
Click to Read More
---
Shimano Lucanus Jigs
01-21-2009 11:24 PM
Click to Read More